Company History
My name is Cédric Brenet. I am the founder of BDM (Brenet Dairy Machines) and I'm part of the third generation of my family, who works in the dairy and cheese industry.
My grandfather, Mr Gilbert Brenet, joined ENIL (National Dairy School) in the late 1940s, early 1950s.
He was professor at National Dairy School of Mamirolle, then director at National Dairy School Mamirolle and Poligny, then National Inspector of Agro-Food Education. He ended his career as General Engineer of Agronomy.
With, to his credit:
The establishment of the 1st Superior Technician Certificate (Slag) – 1966
Restructuring of the dairy training system; -the creation of the A.N.FO.P.E.I.L (Association Nationale de Formation et de perfectionnement des Personnels en Industrie Laitière et agro-alimentaire).
My father, Alain Brenet, was a student in BTS (1971-1973) at National Dairy School of Poligny and then an machines instructor at the ENIL in Poligny. Then he worked as a sales agent for a Finnish manufacturer (MKT) to finally create his own company for the sale of second hand and new dairy and cheese equipment (BRENET Company - 1979-2019), in which I began to work.
For my part, I have been working for twenty years in the purchase and sale of dairy and cheese equipment, both in France and abroad.
I created BRENET DAIRY MACHINES with the main objective, to make you take advantage of my European and international network and this, to allow you to find the machines that correspond to your need and your budget.
BDM markets different types of products:
New machines such as: butter churns, moulders, kettles, butter silos, maturation tanks or cheese makers, pre-pressing systems, CIP, skid pasteurization, homogenizers, etc.
Used and fully overhauled machines such as:
Butter, fresh and processed cheese packers BENHIL, KUSTNER, TREPKO, SIMON, WESTFALIA, APV Pasilac continuous butter making machine, ERCA thermoforming machines, WESTFALIA and ALFA-LAVAL skimming machines, etc. New and used machines are installed and started by manufacturers.
On-site installations (piping, automation, site monitoring) are carried out by a French company that is a partner of BDM.
Spare parts and accessories, such as:
-Soft cheese basins 250 litres, gaskets for cooking mixers, "socks" for rotary filters, moulds and mould blocks, ripening and brining trays, parts BENHIL, KUSTNER, CORAZZA, ERCA, GEA Tuchenhagen, GEA NiroSoavi, GEA Westfalia Separatoren, GEA Hilge, Tetra Pak, Alfa-Laval, SPX Flow, Fristam, SKF among others….
Localisation
From the plains and plateaux of the Haute-Sâone, the Jura landscape rises in a succession of folds and parallel plateaux to form the mountains currently revived by Winter sports and Summer tourism.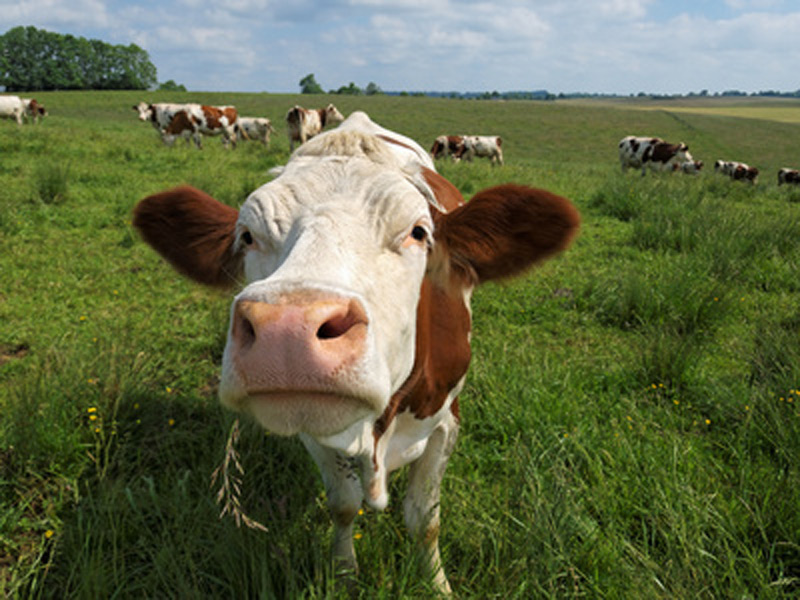 Two Ecoles Nationales d'Industrie Laitière, at Mamirolle and Poligny, are proof in themselves that the region has developed and still supports the activities associated with the milk produced in abundance by the Montbéliard breed, nowadays much sought-after by cattle breeders in the other French departments and foreign countries.
In a spirit of cooperation, most of the villages take care of their own cooperative cheese dairy where they produce a high-quality Comté which, accompanied by a good Jura wine, finishes off on a warm note meals in which Morteau sausage and mountain ham have their importance. With 7000 milk producers, the Franche-Comté is essentially turned towards cow milk production.
They are mainly based in the Doubs (3800) and in the Jura and the Haute-Sâone (about 1800 producers in each department). Nevertheless, cheese production in Franche-Comté represents 7% of national production: there are almost 250 processing plants.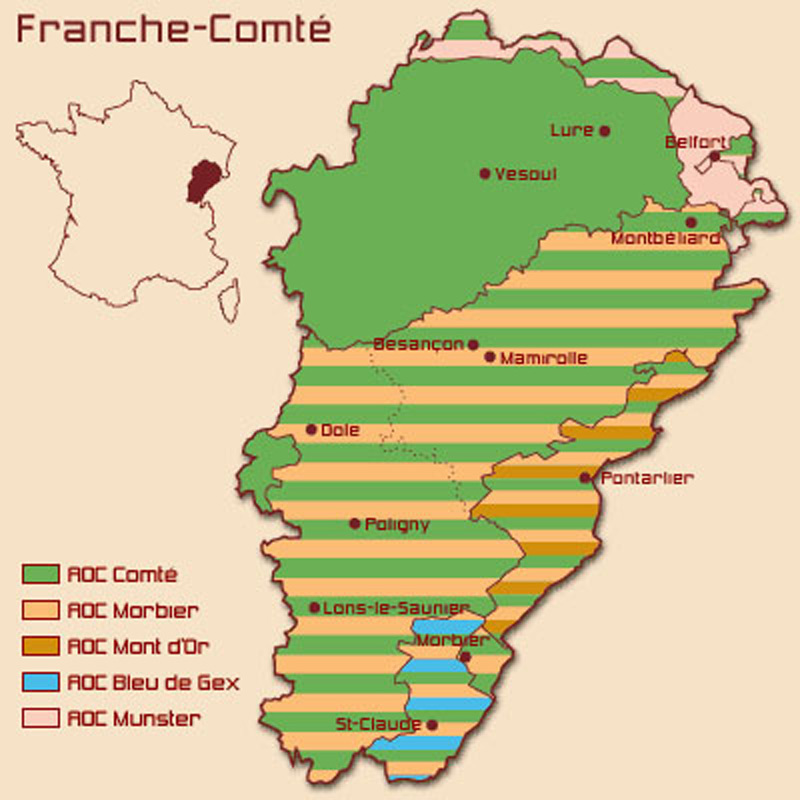 Most of them are located in the South-East of the region (the Doubs and the Jura departments). Traditional production is carried out in these small workshops called cooperative cheese dairies : Comté, Morbier, Bleu de Gex and Mont d'Or for AOC cheeses, Emmental Grand Cru and Cancoillotte for branded products.
Moreover, attention should be drawn to the presence of important process cheese factories in the Jura department. The Haute-Sâone and the Territoire de Belfort departments are characterized by a small number of medium-sized processing plants (between 1000 and 10,000 tons per year).
The main productions are Emmental, soft cheeses and Cancoillotte. And finally, some producers of Munster fermier can be found in the Vosges foothills.